I was looking for a quick project this week to give me something to do while the weather's been so bad. so after searching through my books for a bit of inspiration, I found the lovely Free and Easy Stitch Style by Poppy Treffry. I've had a little go at machine embroidery in the past and I thought it'd be a good way to use up some of my scraps.
One of the facebook pages I'm signed up to features some fantastic photos of the North East, and I thought this might make a great starting point for an embroidered picture. these are two pictures I really like - the "Angel of the North' by Anthony Gormley and this image of a location on Hadrian's Wall called Sycamore Gap which featured in the Kevin Costner film "Robin Hood Prince of Thieves" many moons ago!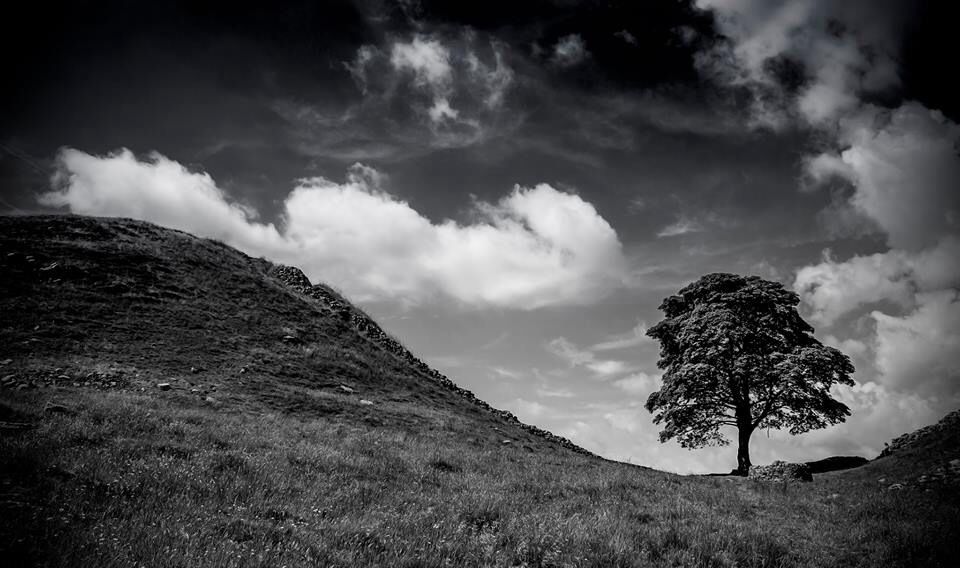 I started by sketching out the main bones of the Angel image - the figure and a hill, plus some embellishments such as a few trees, clouds, and a person to add interest.
I then spent AGES happily trawling through my fabric scraps to find the ideal combination. I started with a green floral print which I thought would b ideal for the hill, and went from there. I wanted prints for the main elements that would complement each other, plus a few bits of contrast in the extra details.
After cutting out some squares of each fabric, I ironed Bondaweb onto the back. This means you can stick your shapes down after cutting out, which keeps them in place while you're sewing, and it also stops the fabric fraying.
Then I copied each shape onto the back of the Bondaweb, cut each one out and ironed them all onto my backing fabric, which was a piece of plain white cotton.
Then, I free stitched around each piece of fabric to create an outline - it's a bit like doing a line drawing, but with a needle and thread. I'll do a more in depth post later on this technique.
A bit of tidying up of loose threads and it's ready to hang!